MADE BY JAMES
YOUR HONEST GUIDE TO
CREATIVITY AND LOGO DESIGN.
Well this still tickles me even while I'm writing this sentence. My spelling is atrocious, I am 100% sure I am dyslexic… and on top of that I tend to chuck the odd passionate curse word in every now and again… so how on earth is this all happening?
But, with that being said, I find great solace in being uncomfortable and I now have the opportunity to help my fellow designers more than ever before. The fact that there are crazy enough people in the world, like myself, that feel a book written by my brain is something the world needs. That makes me super scared, crazy happy but more importantly… unbelievably proud.
My aim is to fill it with as much value as possible to help you become whatever you desire in the creative world. I want this book to be your best mate in the good times and the bad, and let's be honest, things don't always go the way we want.
ORDER FROM AMAZON
OTHER ORDER OPTIONS
BELOW IS A LIST OF SOME OF
THE TOPICS THAT ARE COVERED
- My road to full time logo designer
- How to gain clients
- Finding your style
- My logo process
- My logo process tips
- What happens when it goes wrong
- How to deal with negative clients
- Being prolific and consistent
- Surround yourself with the right people And Many More
ORDER FROM AMAZON
OTHER ORDER OPTIONES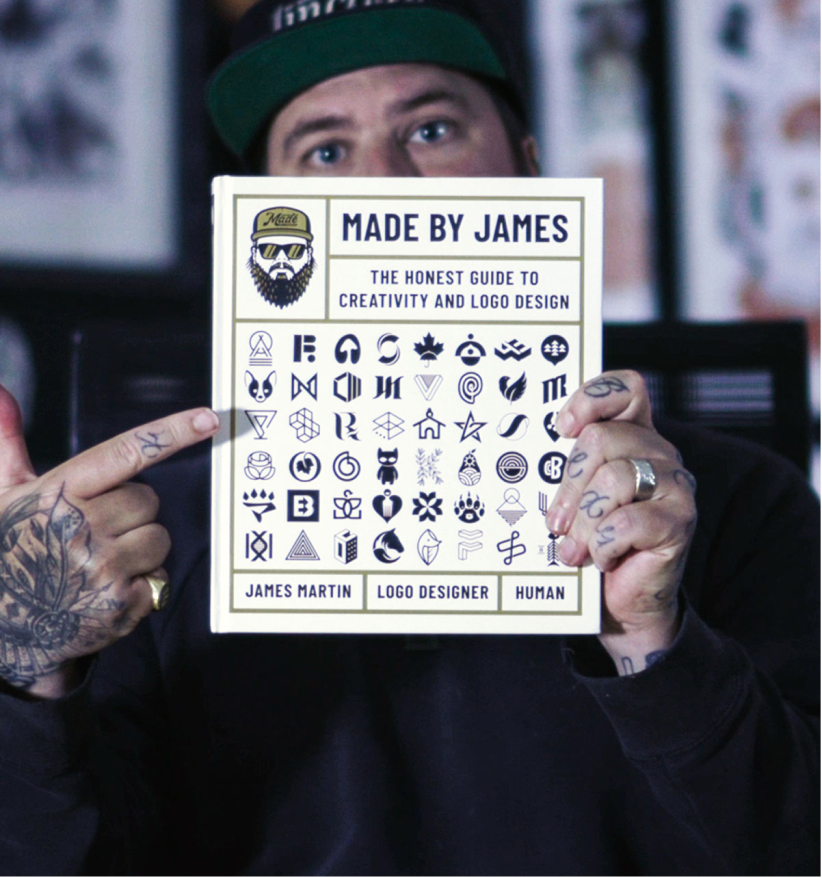 FIERCLY LOCAL
BUT AVAILABLE
WORLDWIDE

WONDERFULLY WRITTEN,
BEAUTIFULLY DESIGNED
Owen Williams
I love books like this, and this is one of the best. Filled with inspiration, and a delight to look at. James has smashed it out of the park with this book. It simply makes me want to design more, have fun, and enjoy the ride.

THIS BOOK IS AWESOME.
YOU WON'T BE DISAPPOINTED
ARTI PATEL
So excited when this arrived!! As expected the book is beautifully presented, as soon as you open it your eyes are treated to a double page of MBJs very cool brand assets and logos and if you follow James on his socials then you'll recognise them instantly. I've followed him for a while now and always love coming across his posts if your not already following him go do it - your missing out.
So much insight, advice, process, ideas, passion and genuine honesty in this book - its full of golden nuggets and I'm only on chapter five and thoroughly enjoying it.
This book not only looks good but it feels good in your hands when your reading it. I'd highly recommend it to any level creative.

AUTHENTIC, DOWN TO EARTH AND GENIUS!
N. FARMER
I have followed James on Instagram for some time now, finding him to be inspiring, practical, authentic and helpful. Not only that, but his work is the stuff you wish you made. Following a difficult time that caused a huge loss of creative confidence I sat down and opened this beautiful book, marvelling at the lovely production. I honestly could have sat and read this book in one sitting, as it was easy to read, engaging, and full of inspiration and help. It made me want to pick up a pencil and start drawing! Thank you James.

A FANTASTIC BOOK ON
CREATIVITY AND LOGO DESIGN
SEAMUS MAHER
Love this book by James, such an honest and open book all about Logo Design but covers so much more than the usual 'here's how I did it', valuable lessons to be learned here by any creative regardless of where they are in their career.

ABSOLUTELY VITAL FOR GRADUATES
AND UPCOMING BRAND DESIGNERS
LUKE
This book blew my mind. To hear advice and expertise from someone is currently in the game gave me a lot of hope as graduate. Very clear and straightforward to understand, this book has given me a better understanding on how to approach logo and brand design, and I highly recommend it to anyone who wants to venture down the branding pathway.

AWESOME
CARINA H
Honest, knowledgable, engaging, open, personal and inspiring. Having recently become amazed by logo design and the process this book is absolutely great. It's a visual feast of very very cool and skilful designs. A brilliant read too about the personal journey of a designer. Thank you!

A CREATIVE BIBLE FOR
ANYONE NEEDING INSPIRATION
NICKY O
So excited about this find. Finally a book just dedicated to logos and brand identity with all the trappings of industry and business insight as simple, elegant and timeless as the logos he creates.
LOVE LOVE LOVE the backstory and photos, it was so refreshing having such insight into the designers life including all the mistakes and adventures in his personal life which led him to this place, it made the read personable as if James was sitting next to you chatting like an old friend. Each chapter reads on its own with simple tips, tricks and tools of where to start whether it be for fun or to start an enterprise. What's great is James emphasises you don't need to be an artist to create, just have the attitude of thinking outside the box.
It's got to be my favourite book right now and sits pride of place on my coffee table.

A BOOK FILLED WITH INSPIRING IDEAS
D HEWITT
This has been an absolute pleasure to read and I enjoyed the blend of advice on logo & design but also, tips on how to approach creative thinking. There are useful tips and tricks on each of the pages that I've already implemented into my everyday life and have made me feel much more empowered in my day job. An author that shows true vulnerability from the offset and is relatable throughout. A must-have for anyone that works in the creative industry!